WSIL News & Views
January 12th. 2008, 8:10pm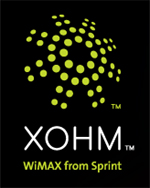 There's a really nice article* in this month's IEEE Spectrum Magazine about Sprint's Xohm, which will provide the first WiMAX service in the United States. I'm usually not too excited about this kind of stuff, but I will definitely look into it when it is offered here in Austin. This year they plan on deploying in Chicago, Baltimore, and Washington, D.C., followed by New York City.
Perks:
2-4 Mbps, which is 4-8 times faster than 3G.
Equipment available will include laptop adapters, mobile phones, and home modems, meaning one service can give you broadband access to your home, give you a WiFi-like hotspot anywhere in the city, and be your mobile phone.
Prices are expected to be competitive with DSL.
No contracts.
Now we just have to hope WiMAX equipment isn't too expensive.
---
*the article isn't on IEEE Xplore quite yet.
3 Responses to "WiMAX Deploying"
Leave a Reply